Florida 1999
Fort Lauderdale, Miami, Islamorada, Bimini. October/november 1999
The trip
I met Maja at the airport at 6 am Friday morning October 22, 1999. It was still early, but I was wide awake. I had been looking forward to this trip since we planned it one night at "Gröna Lund" in Stockholm in May 1999.

We arrived a little late in Charles de Gaulle in Paris and we ended up being 1,5 hour late into Miami. We picked a Cab and spent 80 usd getting to the Seville Hotel in Fort Lauderdale. The taxidriver was a diver too and recommended a club north of Fort Lauderdale, but we never had time to go there.

The hotel was alright considered that we paid 44 usd per night including taxes. We called Rob upon arrival and he picked us up half an hour later. First we went to "The Castle" to get a Strawberry Marguerita - uhmmmm - this was just what we wanted. After the Margueritas we went down to Las Olas. None of us were hungry, but we managed 3 big sushi meals on the japanese restaurant on Las Olas.
Cape Canaveral missed
On Saturday we had breakfast by the beach and then flew up to Cape Canaveral. This was Majas first trip in a little plane. After a little nervousness to begin with she really liked it. Unfortunately we had misjudged the time in the space center and we could not take the tour of the center and still make it home for dinner at the River Walk. I voted for the tour, but Maja and Rob voted for the dinner, so we flew back low and slow along the beach, all the way down to Port Everglades and back to Pompano.

Rob picked us up for the evening and took us down to the River Walk where we had a wonderful and delightful dinner at the Riverside Restaurant. My carpaccio was melting just by the sight of it and the chicken afterwards is wonderful. Afterwards we walk along the River and we take some pictures of the boats, many of them huge cruisers. There is music and shops and cafes. It is a beautiful evening.
Diving
We are going to borrow Robs car for the first week of our stay, so on sunday morning Rob picks me up at 6 o'clock, to take him to the airport and drive the car back to Seville. I was a little nervous about the driving but it was no problem. Then we packed and went south. We took the I95 and A1A going south. For a long while we happened to run along with a groups of bikers cruising on their Honda Goldwings, going south as us. Being interesting A1A soon gets too crowded though, and we head for the turnpike instead.

Finding the Sea Raven with Mike, who is the owner of Lookout Lodge and Sea Raven. It is a little rough out there and Maja gets seasick. I am afraid we have to abort the dives, but she is tough and we did 2 dives in shallow water. It was nice to be back diving, but as usual I had trouble finding the way and on the first dive we have to surface to see where the boat is. I want to continue on the surface but Maja is afraid of getting seasick so we go down again. On the way down I get ear problems and I am afraid I can't make the second dive. I do it anyway, even if my ear really hurts, especially afterwards.

After the diving we meet Joe and his son George on the beach. They have rented a water scooter. We get each our trip with Joe. This is fun but quite strenous. In the evening my ear really hurts and besides I feel real bad in my stomach so we have to cancel with Dave. Tuesday I just lay asleep all morning, but in the afternoon I feel a little better and we go visit the Theatre of the Sea. Here we see alligators, a Sea Lion show and a Dolphin show. There are turtles, barracudas, sharks and a large variety of fish. A nice place. After this we do some shopping.

In the evening Dave cooks lobsters and steaks for us. I can't eat much because of my stomach, but the lobster is absolutely delicious. We share a bottle of wine and one more.

Wednesday Dave is our divemaster. I always feel more comfortable if there is a local divemaster coming along. We dive two really nice dives. One of them on a wreck where we see two huge fish. I could kill myself for forgetting to put a film in the camera. After the dives we go to the Hawk for lunch and I go to a dive shop to find straps for my finns.

Thursday we repeat the dives of the Eagle Wreck and Davis Reef. On the way I talk to Mike on the flybridge. He has a new 2 x 180 degree camera that he plays with. He makes a nice homepage. And he is really good at it.
A short look at Miami
Finally relity hits us and it is time to say goodbye and go along for new events. First we have to look for my ring at the pink restaurant. The waiter call me sweetheart and honey and stinks of Old Spice, but I find the ring. Then we have to go back for my shorty which I forgot at Lookout Lodge. Then we head for Homestead and Florida city. There is absolutely nothing there so we turn towards Miami instead. We find the way to Collins Av. directly, look up a hotel in the coupons, call from the car and check in. Really cool. I love the Jeep Cherokee even if it does not have 4 wheel traction, it does have both a compass and leather seats.
Maja wants to see The HardRock Cafe and we go down town where we eat an average dinner at Bayside. Nice place but the service there is lousy.
Everglades
Friday we want to see the Everglades. We drive along the Tamiami Trail just to find the Shark Valley closed because og water. Shark Valley is a 14 miles long bicycle road through a part of overglades. Maja have been fearing it for a week, either because of the alligators you are bound to meet there or because of the 14 miles trip. But the trail is flooded unfortunately and we have to just do the airboat ride and a visit to the Micosukee Indian Village. We find the indians pathetic. They are fighting for a life that no longer can exist in the modern world. I don't like it. I don't like the way the exhibit their lives and the alligator wrestling is disgusting. The airboat tour takes us to some small shacks in the Everglades. It is purely touristic. One interesting thing is the sewing machines. There are so many old rusty sewing machines and other old iron stuff everywhere. I never get the explanation as to why. Interesting but not nice.

We head straight back to Fort Lauderdale where the Magueritas are waiting. We check in at the Beach Plaza Hotel. It is expensive and not nice at all, dirty and old, not well kept at all.

At the hotel we meet a gay couple. One of them is danish. When we later that night eat in the French Restaurant on Las Olas we meet them again and have a little chat. Later we have a Marguerita in a bar with some live music and we take the free shuttle bus home to the beach. A really nice evening.
Fantasy Fest in Key West
Saturday morning we pick up Rob. He is flying us to Fantasy Fest in Key West - or Key Weird as it is sometimes called. Before the day ends we all know why. This is great fun. Everybody is dressed out in funny costumes. Some wear almost nothing but some body paint. As the day goes by it gets only worse or more fun. There is no limit to how creative people have been. We take lots of photos. I want to do the body paint but the line is long and our time is not unlimited. Lunch is at the Bagatelle. I have a large fruit salad and I eat all.

We stroll up and down the road, buy some beats to wear around the neck like everybody else. We have Margueritas at the Jimmi Buffet bar and visit Kelly McGillys place too. Finally it is time to head home. We find a cab to take us to the airport and we take off in the dark. I am tired but want to enjoy the flight back. We pick up the lights of Miami real soon, almost too soon. At Kennedy I get to take off the plane, or at least roll it on the runway. I really enjoy that. Later unfortunately we have too much wind for that.

Read more about Fantasy fest on this link.
Going to Bimini
On Sunday it is off to Bimini, where we are going to visit one of Robs friends, Jerry, who has a house on Bimini. Rob pick us up and we go to the airport. The safety instructions before the oversea flight scares Maja a bit. I understand that because it did the same to me first time. But we have a really pretty flight and manage to see Jerrys house on the beach as we fly into Bimini airport. We take a cab to Jerrys house. It is really neat and big and right by the water. His boat is on the dock just 50 meters from the house and soon we are ready for lobstering. Rob has made it clear that we will have to catch our own dinner. Unfortunately there are no lobsters under the truckhoods and only Rob manage to catch a small one. But the snorkeling is great fun. Especially when we get towed by the boat at just 15 feet of water. We can see the bottom and all life there, french angelfish, barracuda and Maja see a stingray. We also snorkel a VW which lies just outside Jerrys house.

Then we head into Allis Town where we visit the diveshop and talk to them about diving the next day. We stroll along the road and have another Strawberry Marguerita att the Compleat Angler, which used to be the place of Ernest Hemingway. He spend a lot of time fishing at Bimini. We have some fun trying the ringgame.

In the evening we get lobster after all. Jerry have some in the freezer. He cooks them, cut them in half and mix the meat with some whitewine and serve it with pasta and spinach. Absolutely delicious. After dinner, some Rhum Goombay and wine we go fishing. We don't catch anything and after that we are all tired.
Diving at Bimini
The next morning we go diving. The guys take us there in the 36" Dakota. It is cool being transported in jeeps, planes and big boats. We are being spoiled. In the diveshop Maja fins out that she has forgotten her certificate. I have forgotten my dive computer. This is stupid. Learn to focus!!! The shop is nice, the girls are nice, but the boat is big and old, not well kept at all. There are three other guys there. They are friends and have been diving together at several places. They are here for a week, but Bimini is small and they all long for home. Drew is fun. He owns a "Gentlemens Club" in Louisiana and wants us to come to New Orleans for Mardi Gras.

The first dive site is a wreck. We all enter the water, but there are so much current. The first guy makes it to the bow and down the mooring line, the second guy comes back. Andy have been diving for 20 years, but this does not match his perception of diving. I quit after a few minutes too. The current is way too strong. Maja and Drew wants to go. They make it to the bow but then comes back. Nobody completes the dive. To get another two dives we head for the Turtle Islands, which was where we did the snorkel-tow yesterday. We make two nice dives, but I am cold in my shorty.

On the way back we see the Dakota and the guys. Maja tells Andy that they were supposed to pick us up in allis Town at 12.30 which is now, and Andy just turn his back at the boat and moons them. So does Drew. They are crazy. The Dakota is much faster than the diveboat and they are waiting for us in Allis Town when we get in.
Snorkeling at the concrete wreck
After lunch in Allis Town - Cracked Conch - we go back to South Bimini. Rob is leaving us. He promises to make a low and slow pass over the house and I keep the camera ready to shoot the plane in the air. We are working on the dock and never see him though. After we finish at the dock we go to the concrete ship and Maja and I go snorkeling there. This is REALLY cool. The lights that enters the middle of the ship makes it a little scary but at the same time not at all. You can see the huge motor and it is very interesting. We go from room to room and at the very end, just where the ship is broken into two pieces we see a huge trunk- or pufferfish.
Catching fish
After the concreteship we go fishing on the deep side og the island. We stop the motor at 70 feet and drift to 300 and then head back. This is great fun. We hardly get the rod into the water before we catch something. Some are too small, others are not good. We catch yellowtail snapper, triggerfish, red grouper and a trunkfish. We even see a shark that steals Jerrys catch before he manage to get in onboard. Majas shirt is full of fish and dirt. She is now proberly dressed! The nice white boat is filled with dirt from the fishing, but we have a beer and great fun.

It is dark when we head back and Maja and I are on the flybridge. High of the experiences. The smiles on our faces are stuck to our ears. This is SO COOL!!!!

In the afternoon we make a parade of our catch and Jerry cooks for us again. He is really nice. We talk about the Newfies (people from New Foundland) and people from Greenland. We also talk about the court system and a lot of other things. He is curious about Denmark, but don't think that he will go there. He talks about taking the plane down the Caribbean chain with Rob and flying one way commercially. Both Maja and I volunteer as crew.
Coming back to Fort Lauderdale
Tuesday there is a front coming in. The weather is really nasty and for a second I fear that we are stuck there. Not that it would be a catastrophe though, since the place is really neat. But Jerry says the front will be over by noon and we cook breakfast and wait around. In the meantime we clean up the boat. It is nice to be of some help, now we have been treated so good for a long time.

The flight home is eventless. Jerry does not fly IFR and we have to pass under the rest of the front. We get the plane washed and are at only 1.000 feet, but no problem and when we exit the front the clouds are so pretty. At the hanger we pick up all our stuff in Robs hanger and Jerry takes us south to pick up the rental car. We agree to have dinner the next day and meet at Mai Kais.

We have Robs cell phone and call from the car rental company and book with the Seville Motel at Lauderdale by the beach. We stayed there before and the girl Linda remembers us. After a shower we have dinner at Casablanca. The waiter recommends the Tuna steak and it is truly delicious and so is the Marguerita. I have Crème Brulee for dessert and coffee and we really enjoy the evening.
Maja's Birthday
Wednesday is Majas birthday. We were supposed to be on our way to orlando and Disney World but we decide to stay and go to the courthouse and have dinner with Jerry instead. I don't have a present for Maja and feel bad about it, but she does not seem to be expecting one. First we have breakfast at the "Castle", toasted bagel with cream cheese and a wonderful café latte. Then we head for the courthouse down town. After a few confusions we find Jerrys office and head for courtroom 400 where we see him proceed in a case of violation of probation. He looks very different in a shirt and tie and I think Maja and I are the only ones in the courtroom with bare legs. A guy who raped his girlfriend have not reported a change of adress and needs to go back to jail. The guy is not happy and kicks the door open. For a moment we get a little anxious, but fortunately he is handcuffed and we need not worry. Then we go out for lunch and after lunch we go see a case, where a 16 year old girl staffed her mother to death with a kitchenknife. Her lawyer is trying to make her look like a little girl, but she almost need a shave and he does not succeed. We do not stay for long. The prosecutor is presenting evidence, which is a lot of photographs and not very exiting to see. Next day we hear that the girl is sentenced to lifetime twice.
Mai Kai and dinner
After shopping at Sawgrass Mill we get ready to go to Mai Kai. Unfortunately one of us has to drive. Mai Kai is a neat place and we get to valet park the car. The place looks like a jungle place. We enter the bar and gets a table in the back. There is a small waterfall right behind us and we can hear the jungle drums from the room next to. We pick the drinks from a big selection. I have a "Divers delight" or something like that. Jerry gives Maja a balloon - a shark, which she unfortunately looses at the book café later that night. After Mai Kai we have dinner at a thai place right where Federal Highway meets Sunrise Blvd. Maja gets a birthday cake there and we have fun.

Afterwards we go to the book café for coffee which we enjoy outside right by the riverside. A nice evening and we have to finally say goodbye to Jerry. He has been really so nice to us. I do hope his trip to New Guinea works out for him.
Disney World and MGM Studios
Then it is off towards Orlando and Disney World. We leave at 7am - real early for us, but we did not get to sleep in much at this trip anyway. The drive is easy and we finding Magic Kingdoms does not give any trouble. We have a nice day there. We do the Splash Mountain and the ExtraTERRORestrial Alien Encounter, the Space Mountain and much more. We find a nice hotel down in Kissimmee and pick up and take home food for dinner. It has been a long but nice day. Friday is MGM and we are there at 8.30am when the park opens. This is fun too. We are lucky and get the three most visited attractions done in an hour and a half. A lot of fun is the Rock'n Roller Coaster with Aerosmith and the Hollywood Tower hotel with the 13 stories drop. We also take the Backstage Tour which is less fun that the one in Universal in Los Angeles.
Time is running out
Friday night we meet Rob in The Old Florida Seafood House where we have stone crabs. You don't get the whole crab, just the claw. You break off one claw and the crab will grow another one. I like it, but not as much as I expected. Maybe because I want my dinner hot and not cold. After dinner we take the car to the Seville and go with Rob to Pier 66, which is at a large hotel on 17th Avenue. It is a round bar on top of the hotel and the bar turns clockwise around in an hour. It is a great place. We have drinks and take photos. It is a really nice evening.

Saturday morning we head for Miami. We are at Bayside exactly at 10.00am where we are going to meet Dave for breakfast. After breakfast we drive down to Coconut Grove. It is a fun place. We have Margueritas and Hummus and we do some shopping. It is a nice day. After Coconut Grove we take our car to the rental company and use Daves from here. We go down to South Beach where we stroll up and down and have dinner and another drink. I don't want to go home. This has been such a wonderful trip. Maja is a good roommate and travel companion. We have had so much fun experiences I can hardly "digest" it all. Everybody we have met have been really nice to us making the trip an unforgettable experience. And especially Rob and Jerry have been splendid. What a trip!!!!!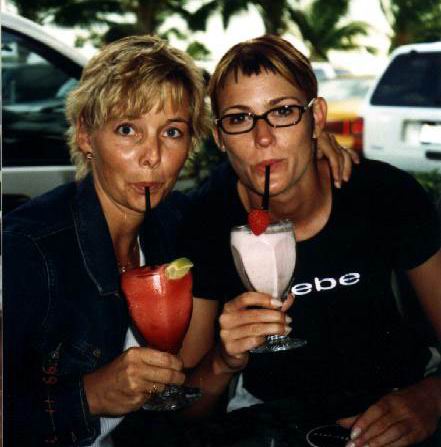 Two happy girls having Strawberry Margueritas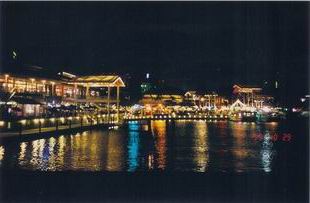 Las Olas Boulevard at nighttime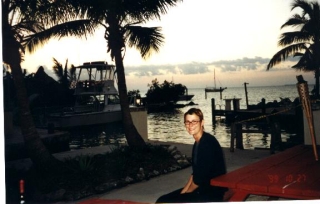 Maja in front of The Lookout Lodge and the Sea Raven in the background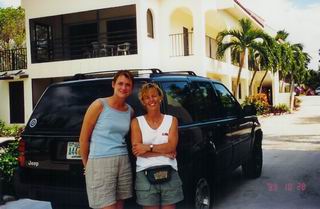 Maja and I in front of the jeep outside the Lookout Lodge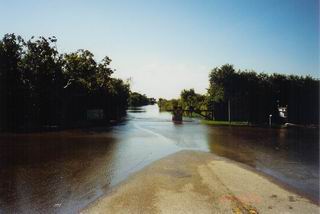 Shar Valley is closed due to flooding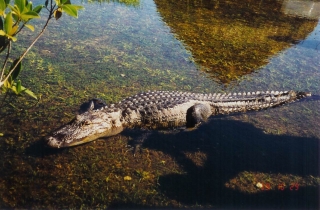 There are plenty of alligators in the Everglades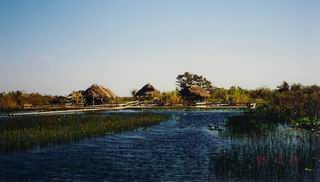 Huts in the Everglades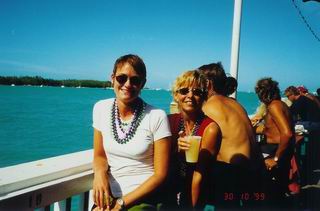 Having a drink at Fantasy Fest, a beautiful view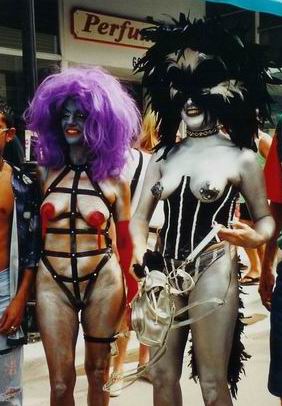 At Fantasy Fest people are dressed in the weirdest ways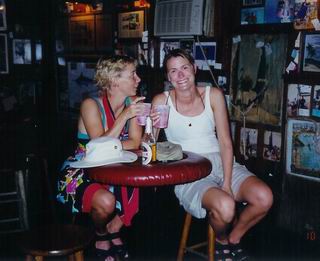 Me and Maja in The Compleat Angler in Allis Town, Bimini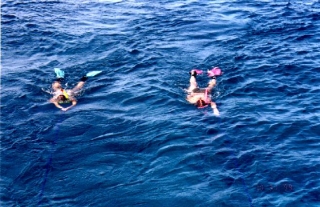 Being towed behind the Dakota watching the marine life is great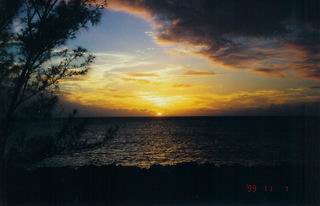 Sunset from Jerrys house on Bimini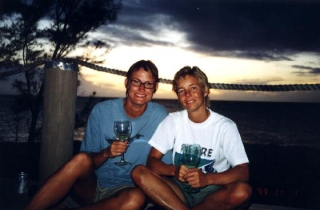 Enjoying sunset after a wonderful day full of experiences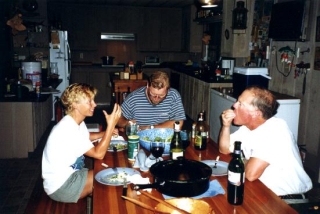 Delicious dinner at Jerrys house, lobsters in whitewine.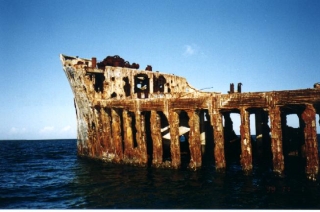 Snorkling at the concrete ship outside Biminis coast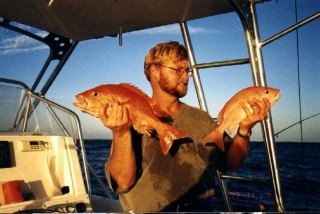 Jerry with some of our catch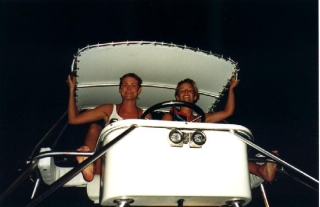 Maja and I on the flybridge, going back to the house after a great day. Look at our smiles.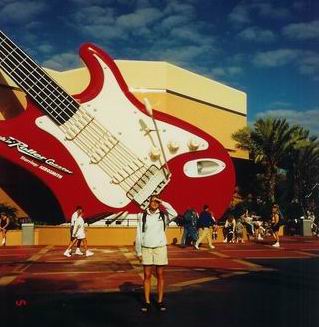 Maja in front of the big Rockn Roller Coaster in Disneyland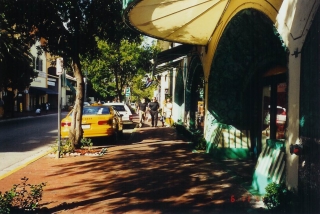 A glimpse of Miami before going home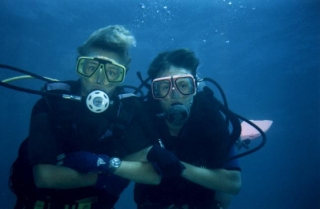 Diving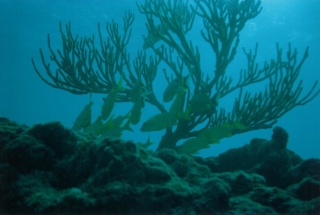 Big fans and scholls of fish diving outside Islamorada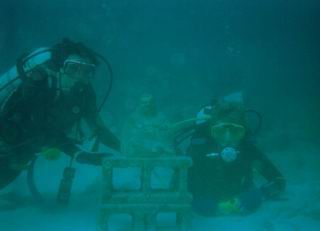 Underwater attraction - a Buddha statue